Intro. to Traditional Stained Glass Panels
This beginner course will teach each student how to make a basic stained glass panel by learning how to design, cut, grind, foil, and solder an individual project. The course will be taught over 3 days, with each day focusing on certain skills and progression of your project:
Where: The Hot Spot @ Rainbow Art Glass' Warehouses
Age Minimum: 16 years old and up
Note: All materials need to be purchased at least one day prior to 1st class
1st Class
Date: Saturday, February 13th, 2021 10-2pm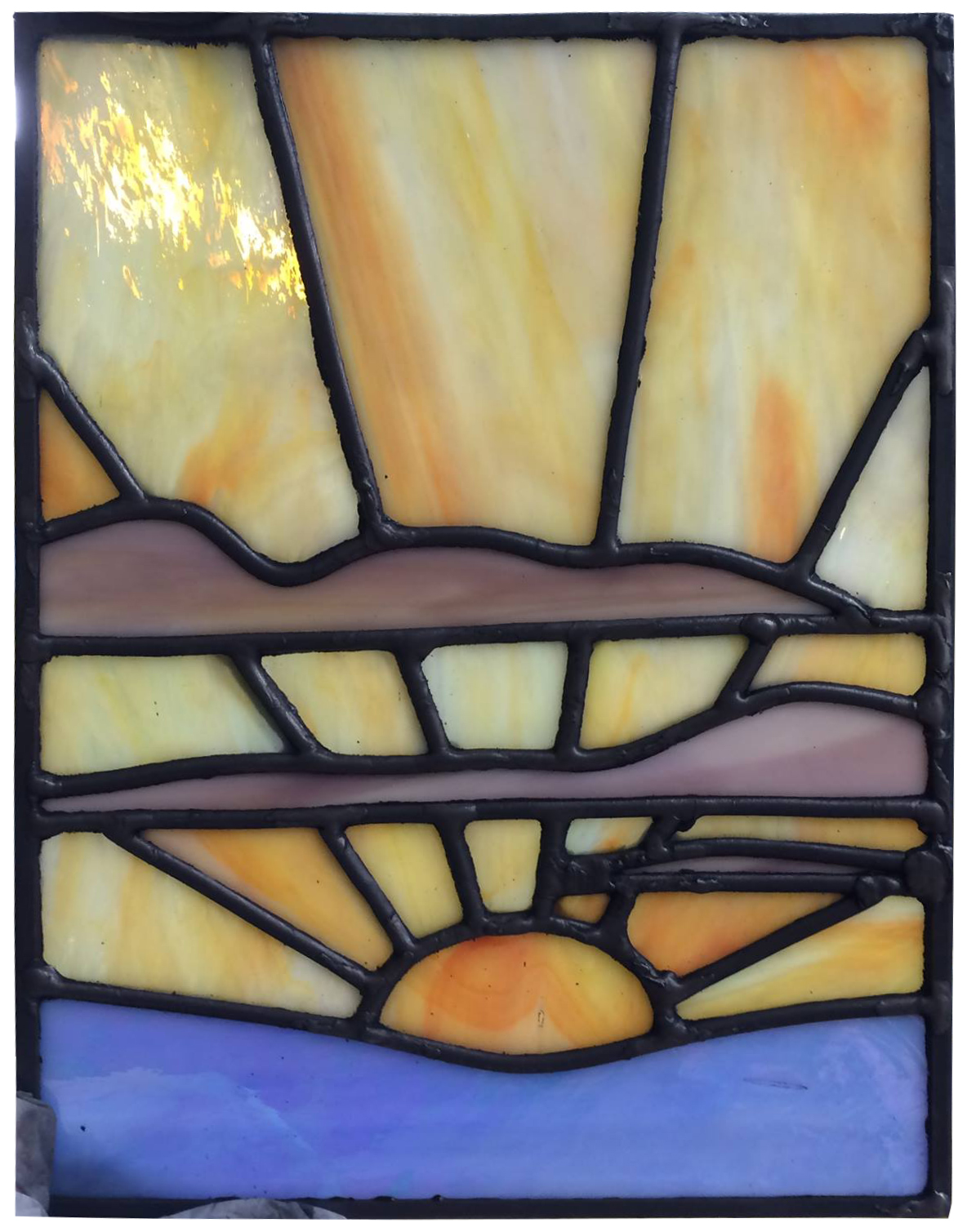 Learn about all the tools/terms that will be used
Learn how to cut glass using hand cutters
Choose pattern from one of Rainbow's supplied inventory
Choose glass for your project
Cut your pieces from your pattern
Learn to use grinders and demonstrations with band/wire saws
2nd Class:
Date: Saturday, February 20th, 2021 10-2pm
Finish grinding all pieces
Learn how to wrap your pieces in copper foil
Learn how to apply flux to your foiled pieces
Learn how to solder your project
3rd Class:
Date: Saturday, February 27th, 2021 10-1pm
Discuss about the different types of framing
Learn how to cut, miter, and solder framing
Choose patina color and learn how to apply
Polish finished piece for take home
Discuss finished pieces and any questions by students
Course Fee: $99.95 total for all 3 days
What to Bring: All of these materials can be purchased at our warehouse for discounted prices for students! (Feel free to bring your own tools if you already have them)
Glass Cutter – Carbide Wheel
Metal Running Plier
Soldering Iron 80W or 100W
Spool (1#) 60/40 Solder
1 Roll of 7/32″ Foil – Copper or Black Color
Grozier (Combo) Pliers
Small Bottle of Liquid Flux
Flux Brush
Foil Stick for Burnishing Foil
Black Marker and White/Silver Marker
Strip (6′) of 1/4″ U Zinc, Copper, or Brass (only need 1 strip, but any of these metals are fine)
Approx 2 square feet of colored glass (scrap glass in our showroom is perfect to use
Approx Cost for above materials – $70 (most of cost is iron, cutter, and grozier which will be good to use for many, many projects).
Discounts on all products after the class or when picking-up your project (some exceptions apply).
Questions: Please contact our office at 732-681-6003. Enrollment is limited so contact us ASAP to hold your spot.
COVID-19 Protocol: Please do not attend the class if not feeling well. (See below regarding cancellation/refund policy) Masks must be worn by all students and instructors throughout the entire course. Temperature checks will be taken at the door and sanitizing materials (Hand Sanitizers and Alcohol based cleaners) will be available to everyone. Workstations/tools will be sanitized prior to each course and all students will be separated by 6 feet per social distancing guidelines.
Cancellation Policy: Must cancel spot for class 7 days prior to the event for a full refund. If the spot is canceled 1-6 days before the event, you will receive a credit towards a future class. If cancelled less than 24 Hours before the event, it will be handled on a case by case basis.