Intermediate Glass Mosaics
Take your mosaic projects to the next level! This hands-on, intermediate workshop will be taught by artist Kate Grady. Work with a larger format and more intricate designs to expand your skills and create a work of art.
Intro to mosaics or previous mosaic work required!
Ages 14 and up.
---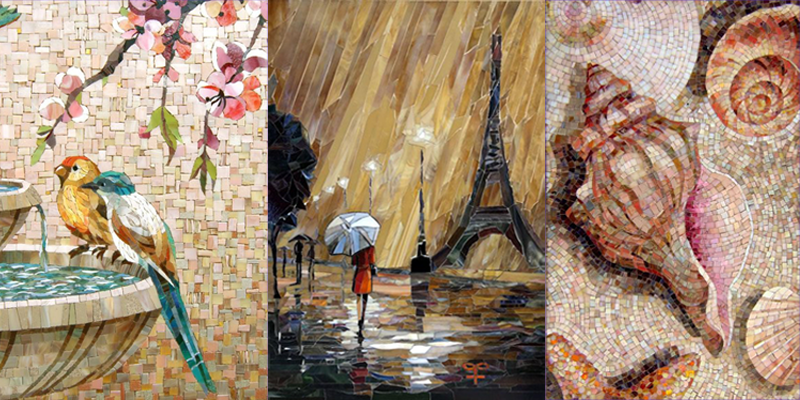 Part 1: Wednesday, June 5th, 2019
Time: 5:00 PM – 8:30 PM
• Each student will learn basic glass cutting skills
• Use traditional glass cutters as well as specialized Mosaic Cutters (all provided by Rainbow)
• Apply your design to your wooden substrate using carbon transfer paper or drawing free hand
• Discuss how to utilize different textured glass and color to achieve a three-dimensional effect
• Start cutting your glass pieces
Part 2: Wednesday, June 12th, 2019
Time: 5:00 PM – 8:30 PM
• Continue cutting your pieces using grinders/saws to clean edges (if needed)
• Discuss different types of glues used in mosaics and what is best for different applications
• Start to lay out cut glass and glue pieces to substrate
Part 3: Wednesday, June 19th, 2019
Time: 5:00 – 8:30 PM
• Finish cutting and gluing all pieces of glass in place
• Leave sufficient drying time of glued pieces before grouting
• Discuss grout colorant and how to apply to grout to complement the colors of their work
Part 4: Wednesday, June 26th, 2019
Time: 5:00 – 8:30 PM
• In the final class, student will choose grout colors
• Mix and apply grout to mosaic work
• After grout dries, clean excess off with sponge to reveal your work
• Teacher will critique students projects and answer questions
Students need to bring:
• Design ideas or patterns for a 24″x 24″, 18″ x 24″
• Sheet or scrap glass and grout colorant (our showroom will be open to purchase glass prior to the day of class at discount pricing)
• Rainbow will provide all other materials and tools including cutters, wood base, adhesive, saws/grinders, grout, and design books for ideas.
Where: The Hot Spot @ Rainbow Art Glass
Fee: $199.95 per student (total for all classes)
Age Minimum: 14 years old and up
Discounts on all products when picking up your project (some exceptions apply).
Questions: Please contact our office at 732-681-6003. Enrollment is limited so contact us ASAP to hold your spot.
Cancellation Policy: Must cancel spot for class 7 days prior to the event for a full refund. If the spot is canceled 1-6 days before the event, you will receive a credit towards a future class. If spot is cancelled less than 24 Hours before the event, the deposit will be forfeited.