Fusing with Frits & Textured Tray Molds
This hands-on project workshop will be taught by accomplished local artist Julie Kiss. Each student will be making their own personal piece using one of the frit molds below. Julie will instruct you on how to apply frits to the textured, embossed molds. She will also discuss shading techniques to obtain different effects along with how to apply a base layer for thickness. Projects will be kiln-fired a 2nd time to shape it into a tray – great for a holiday gift!!! (no experience needed)
Discussion, Design, and Cutting (4 hours)
Design and layout help from Julie
Learn to apply colors in different layers to create depth and contrast in a textured mold
Working with frits, sifters, powder vibe, and spoons to apply color to mold
Discussion about the multiple steps between fusing and a finished slumped vessel
Load projects into the kiln, answer questions, and critique
Discuss ways of displaying the finished projects – metal stands, rubber feet, hanging tabs, etc…
All projects will be shaped into a tray for more variable uses. The photos below, of our sample projects, are for inspiration and you will actually design with your own ideas and colors. We do ask you pick a specific design and relay that to our office at least 2 days prior to class. We need to prepare the molds ahead of time for use.
Date: Saturday, February 29, 2020
Where: The Hot Spot @ Rainbow Art Glass' Warehouses
Time: 10:00 AM – 2:00 PM
Fee: $79.95 per student (includes all working supplies and kiln firings)
Age Minimum: 12 years old and up
What to bring: Your creativity!
**Professional Development certificates available for Educators.**
**AENJ Members receive 10% discount off registration.** (Please mention when signing up)
Come with your family, friends, and spouses for a fun day with art glass!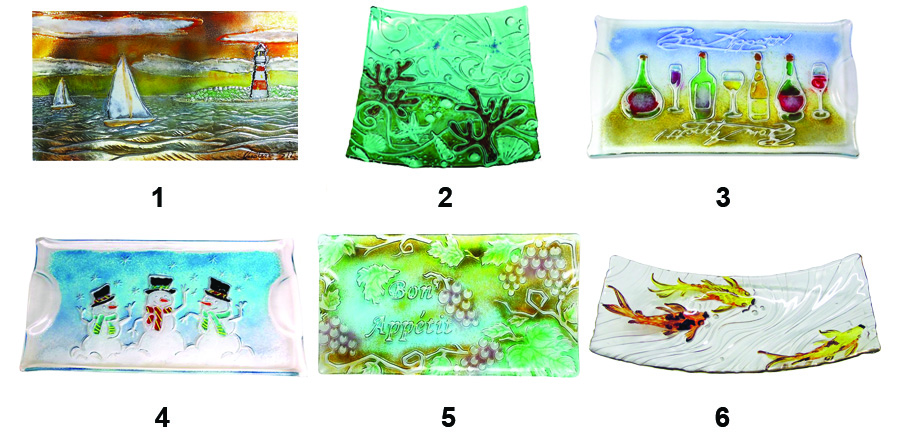 Discounts on all products after the class or when picking-up your project (some exceptions apply).
Questions: Please contact our office at 732-681-6003. Enrollment is limited so contact us ASAP to hold your spot.
Cancellation Policy: Must cancel spot for class 7 days prior to the event for a full refund. If the spot is cancelled 1-6 days before the event, you will receive a credit towards a future class. If spot is cancelled less than 24 hours before the event, the deposit will be forfeited.